It has been quite a bunch of days here in merry old England...I have a bit of catching up to do.
Friday May 14, 2010
Tonight we were all kinda pooped out, so we decided to head to the waffle stand in the nearby Whiteley's Mall and get a desert waffle. They were quite tasty, and I am keen to go back some time soon. There are more waffle houses here than anywhere I've ever seen. I don't know why they don't have waffle places in Provo - they'd make a killing. I dunno, maybe I just haven't seen them or something. After the waffles, we arranged to watch Emma in the classroom. We had about 10 girls and one boy - it was awesome. We watched the Gywneth Paltrow one - so good! I haven't seen it in so long, and I just finished reading the book for my English class so it was perfect timing. Jeremy Northam (Mr. Knightley) gets me every time. He is attractive. Our English teacher, Professor Young, absolutely loves Emma and whenever he talks about it he quotes "Badly done, Emma!" so forever more, that part of the movie, while being amazing in itself, will remind me of Professor Young.
I would like to take this moment to record some of my favorite class moments with Professor Young - his best quotes. When we were at Tintagel, Professor Young slipped and hit his head while trying to get to Merlin's Cave. In class, he was talking about it and this is what he said: "That's when you know you've experienced life - when you hit your head on a cave wall." ha ha Who knew the requirements for life experience were so simple? In referring to all the reading we have been doing in the class, Professor Young said, "I know, it's like you're rolling around in a garbage can...but that's not the right metaphor..." ha ha I don't think my English teacher meant to equate poetry with garbage...but who knows :) Professor Young is an awesome guy. Actually, every single one of the Professors here are great guys. I love them all.
Saturday May 15, 2010
I began the day by going to Portobello Road Market once again. I love it there! I got some really neat things, most of which are gifts for some of my favorite people (and, admittedly, some souvenirs for me...) After Portobello we went on a walk down the Thames and into Burrough Market where they have all sorts of amazing sweets and pastries and granola - pretty much anything you could ever want food wise. And guess what I had for lunch! My friend and I split ostrich and kangaroo burgers. Yes. Ostrich and kangaroo. I ate those animals. And it was sooooo good! I like the kangaroo one best - the meat was more flavorful. I never ever thought I would be eating such creatures, but I did it! (see pic at right)
After the markets we got crepes for dinner at a little crepe shop and then we did homework....lame, I know, to spend a Saturday night in London doing homework, but honestly everything shuts down pretty early here and we have to be up early the next day for church so it works well to do homework on Saturday nights sometimes.
Sunday May 16, 2010
Today we attended our ward in Wandsworth Common, though it took quite some doing to get there this time around. We ended up missing our train out there, so we had to wait around for like half an hour for the next one. We were pretty late to Relief Society, so I felt bad. Next week will be better. I have been assigned to the Relief Society, but ours is so strong I don't really know what they're going to have me do. Everyone is so great and on top of things. Our president said they would discuss me at their meeting this week. I really would like to be of service in the ward, but I don't have anything to do yet. It's a really neat ward. We had wonderful speakers in Sacrament meeting and the missionaries confirmed a young woman who was baptized on Saturday. It was such a neat experience. I haven't seen someone confirmed for such a long time. The Spirit was so strong in the room as she received her confirmation. When I see the missionaries do things like that, it makes me think of my brother Josh and all that he's doing. He is blessing the lives of so many people right now, and he gets to give them the gift of the Holy Ghost if they are worthy of it - that is so cool! I loved having that experience.
I have decided to worry as little as possible about homework on Sunday while I'm here. This resulted in a two hour nap today before dinner, which was absolutely glorious, let me tell you. Naps are favorite. We watched the CES fireside as a group in our classroom. It was really neat. Sundays are so nice and peaceful. I love it.
Monday May 17, 2010
Today was a school day - lots of class, and we're coming up on midterms so that's a bit frightening and strange, especially considering that we've only been here a few weeks. We're halfway done - weird! In the PM we saw a play called Eurydice. It was...shall I say...absurd? That sounds like a good way to describe it. It was probably the funniest thing I have ever seen, and I don't think it was supposed to be that funny. Okay, so I wasn't trying terribly hard to understand the absurdity. I'm sure it had very deep and emotional meaning. I just...avoid seeing it and laughed my head off the whole time. Here are my favorite quotes:
"You need a man with hands. Big hands, like potatoes. Hands that could carry a cow....in labor."
"I grow down. Like a turnip."
"Dear Eurydice: Last night, I dreamed we were making love, and your hair began to pour water out of the ends, and I was like, why is your hair spraying water?...and then you had to hold your knees up because you skinned your knee on a sharp cloud....love, Orpheus."
"Don't stick your tongue inside a dead guys mouth. It tastes like oatmeal, and I know you don't like oatmeal."
Make sense? Don't worry, they don't even make sense in context. There was this part where Eurydice is following Orpheus and they were both running, but in place. It was like they were moon walking, but they were moon running or something. My friend Jessica came back to the center and did here hair in three crazy buns like Eurydice's and started moon running in front of a bunch of the other students and the professors. We all died laughing. One of the professors wasn't there, so we brought Jess back out when he showed up and she performed an encore. Professor Macfarlane totally did a double take when he saw her hair. It was a wonderful laugh. One other time, I was singing Little Mermaid as I walked to my dorm, not knowing that Professor Macfarlane was right behind me. He joined in with me with a bit of Phantom of the Opera - "Sing for me!" It was so funny. Our professors are great. Since seeing this wonderful play, it has become one of the most quoted bits of this experience.
Tuesday May 18, 2010
I spent much of last night and this morning doing homework. I will spend much of today in class or doing homework or study for my midterm on Tuesday for my British History and Politics class. The work load is actually almost unbearable. I never want to take spring or summer classes again, especially if I'm somewhere cool like London. It's hard to get the right balance and get everything done both school and London wise that I want to get done. But I'm muddling through. We'll see how it works out.
Wednesday May 19, 2010
Today was an amazing adventure! We began the day early early and drove to Stratford to see Shakespeare's birthplace! I'm not sure anyone else was terribly excited to be there, but I was so excited. I love Shakespeare! And they had this exhibit and videos and things that talked about his life and influence and showed clips from his plays. I nearly died when they showed some pictures from Hamlet with David Tennant, and I literally jumped up and down and squealed when they were talking about Shakespeare's ability with words and showed a clip from the Doctor Who episode "The Shakespeare Code" with David Tennant once again! I was so deliriously happy. Three of my favorite things - Doctor Who, David Tennant, and Shakespeare. It was like they knew I would be there. It was really neat to see Shakespeare's house - where he grew up and what his life must have been like.
We then headed to the church where Shakespeare was buried (see picture at right) and went for a stroll along the river Avon. It was gorgeous. I love Stratford. Let's face it - I love every place we go to. We went to Anne Hathaway's house (Shakespeare's wife) and had a tour of it. I must have looked really attractive because some random Asian guy in another tour group started taking pictures of me and my friend Jess. It was really awkward, but hilarious.
The gardens outside of the house were beautiful and having a tour of the house was very interesting. As we walked up the really steep spiral staircase inside the house to get to the upper level, I was thinking "man, someone falling down these stairs would not survive." They were deadly. And what would happen but on the way down I fall down the stairs. ha ha I slipped and mostly caught myself, but the noise of me banging down the stairs was terribly loud and the tour guide was more worried about the stairs being ruined than me, but it was so funny. I wasn't hurt at all (and neither were the stairs, thank heaven) so all was good. I couldn't stop laughing for some time. I thought I left my clutziness back in the States, but I guess not....
After Stratford we drove on to....OXFORD! The town was fun and I bought some t-shirts and such, but the best part was....drum roll please....we had tea in the Great Hall of Christ-church, where they filmed some of the Great Hall scenes in Harry Potter!!! AHHHH! I had tea at Hogwarts!!! Actually, it was hot cocoa....but still! And I was sorted at the front of the Great Hall! (Into BYU, of course :)
And we took pictures on the stairs leading up to the Great Hall, also used in the movies. You can probably recognize them from the pictures if you're a Harry Potter geek like me. We were all so excited. We bought round glasses at Primark the night before to complete our experience. It was such a cool experience - once in a lifetime, I think. The head of house at Christ-church is LDS - that's how we got such an amazing experience. So I went to Shakespeare land and Harry Potter land all in one day! What a day! Then I spent the entire evening studying for my Brit Politics midterm...blargh...but what an awesome day!
Thursday May 20, 2010
Today I took my midterm - I think it went well, but I'm mostly just glad it's over. After school we went to the Imperial War museum and explored the sections on World War I and II (my favorite eras of history) and the Holocaust exhibit, which was extremely moving. These eras amaze me, mostly for the triumph of the human spirit exhibited in each. I loved seeing the World Wars from the British side - they were involved in them long before and after the U.S. was and often had more invested and higher casualties. They stood up to Hitler and said no, even though they were a small island and severely outnumbered. It was such a cool museum to walk through.
After dinner, we took off to West End to see...wait for it....WICKED!!! I absolutely loved it. Our seats were amazing, the play was amazing, and the price was amazing! I am such a fortunate person. I can hardly believe I'm here seeing these plays for so cheap. And they're absolutely marvelous.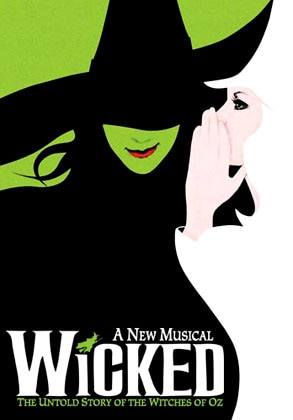 Fiyero was attractive, as he should be, and Elphaba and Glinda had fabulous voices. Glinda was so funny and Elphaba so powerful. It was interesting to hear the characters have British accents. It took me a while to get used to it, but it was definitely fun. I love this play. The music is so much fun. I got chills all over me when Defying Gravity started playing. We had an absolute blast.
I LOVE LONDON!!!!